Power English is an English learning course I discovered back in 2012 when I used to struggle with English speaking.
It was a time when I was searching for new ways of English learning.
Today I would like to share with you my experience with Power English course and how it has helped me with confidence and fluency in speaking.
When I got interested in Power English course (Effortless English Club) back in 2012, I went online to search for the reviews and opinions of other English learners.
To be more precise, I wanted to read the opinions of real people who already used the course before me.
I was searching for the answer to this simple question:
Will the Power English course help me to speak fluent English?
Unfortunately, there wasn't much helpful information about the course apart from the official website.
As you could read in my English struggling story, I had a huge motivation to start speaking English as soon as possible. So I decided to give it a shot and joined Power English course anyway.
Now. I bet you are reading this article because you are interested in Power English course too, aren't you? 🙂
In the following lines, I will try to share with you my own personal experience with the course.
I hope this review will help you to decide whether the Power English course is a right choice for you.
Enjoy! 🙂
LAST UPDATE: September, 2017
If you want you can jump directly to desired section of this review:
Course overview
Power English is an English course created by famous English teacher A. J. Hoge.
Power English is mostly audio course (although several videos are included).
The full course package contains:
30 lesson sets
Bonus lessons
Action Vocabulary videos
Each lesson set includes fun (and usually crazy) Mini story and so-called "Point of View" story where A.J. tells an easy story in various tenses.
There's no focus on explaining grammar rules – instead you listen to the same story in the past, future or present tense. Many people like this approach because you can stop focusing on the grammar rules and just enjoy the story.
Course also contains audio tracks explaining vocabulary used in each lesson set. It doesn't mean that A.J. is going to explain you every single word in the lesson – he focuses on the most difficult words and phrases – like for example – in one of the lesson sets you will learn what "cravings for chocolate" means. This way, every lesson you will learn new English expressions.
A.J. is American therefore the lessons recordings are with American accent. To be more precise, A.J. uses general American accent which is, I believe, easier to understand than other accents. 🙂
Who is the Power English course for?
This was the question I asked myself when I was considering joining the course. After finishing the lessons myself, I would say the course is NOT for absolute beginners.
You need some knowledge in English language. If you are reading this article and understand more or less videos on the Power English website, I believe the course is good for you and you will benefit from it.
The course won't help you much with writing. The main focus is on listening and speaking. If you want to get better in writing, I suggest using another resource.
From my own perspective and experience with Power English, I would say, the course will help you the most if you don't feel comfortable in speaking, if you are unsure when you are about to talk and if you want to become confident and fluent English speaker.
The reason for this is that the lessons are designed to make you speak.
Over the weeks of using the course you should feel much more confident and less hesitant in speaking. You should be able to talk in English with fluency and without thinking. Talking should be automatic and effortless. At least that's what happened to me. 🙂
Also, after finishing the course, you should understand and be able to use new phrases, idioms and other useful English expressions that are taught in the course.
Getting the course
The official website of Power English course is http://effortlessenglishclub.com. Here you can get the lessons.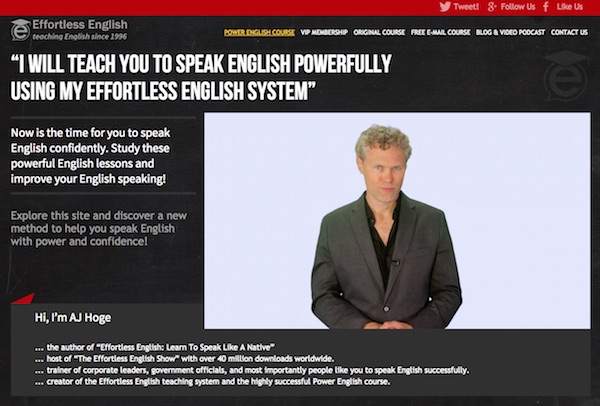 Power English was one of the first courses I have ever bought online so I wasn't sure how exactly does it work.
I used my paypal account. A few seconds after payment was submitted I got an email with a download link from where I downloaded whole package of audio, video and text document files. Everything organised in folders.
Here's how the confirmation email looks like: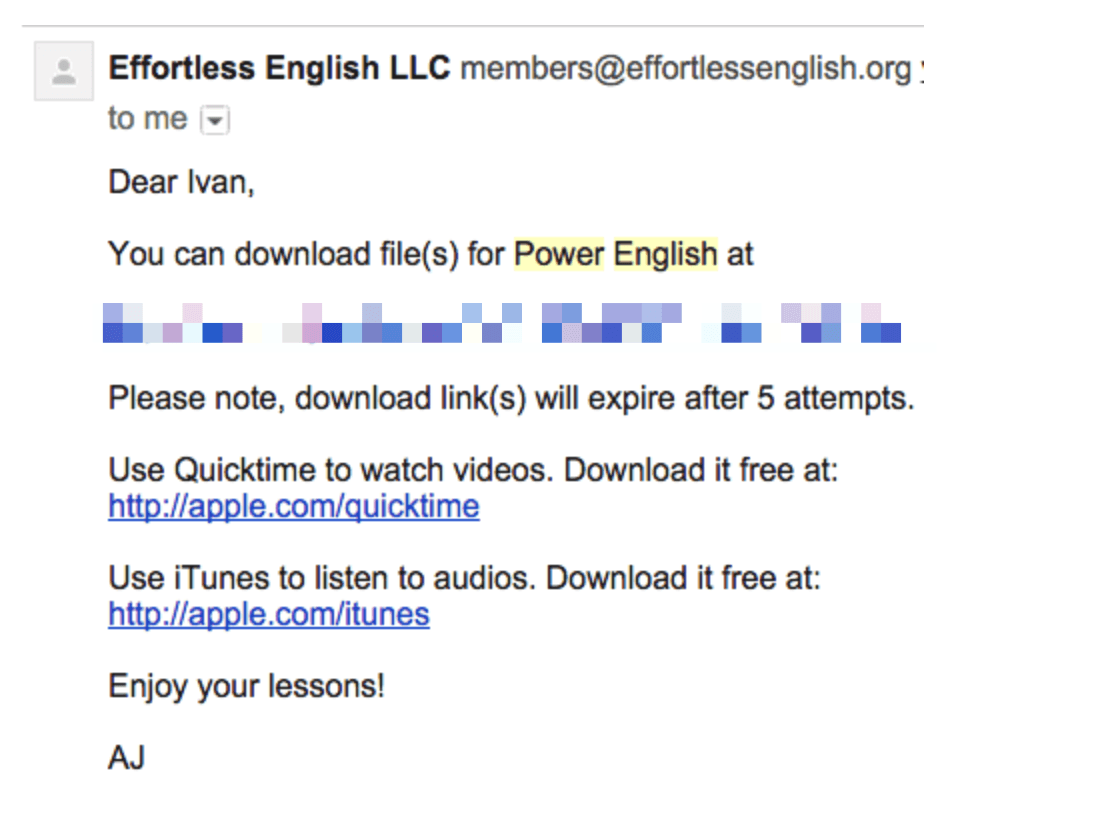 In the video, A.J. teaches his students what does the phrase "she puked her guts out" mean. Yeah I know, it's quite graphic, but it makes me laugh everytime I watch it. 🙂
In the Action vocabulry videos you will learn these pharses for example: "engage your subcoscious", "emotional peak", "acquision", "vivid" and so on. 🙂
Bonuses
Course contains also bonus video and audio lessons which nicely add up to the main lessons.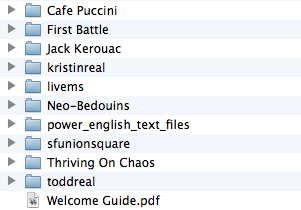 The Effortless English Forum
With the Power English course you are also getting free access to the Effortless English Forum. It is a membership forum website where you can discuss and interact with other Power English members.
The Effortless English Forum is a nice addition to the Power English course. It's a place where you can come, connect with other English learners, get support or support other learners, share your ideas in your own blog posts or comments and have fun while learning. However, I haven't been active very much on the forum personally – mostly because I have many online friends already who I interact with. Anyways, if you are looking for a new friends to practice English with, the Effortless English forum can be a good start for you.
To read more about The Effortless English Forum and see the screenshots, click here please.
What you may like about the Power English course
Here is the list of things I really like about Power English course – you may like them too:
the lessons are fun – when you compare it to some traditional methods of learning English, Power English is much more fun and motivating
each lesson's main audio file contains a powerful inspiring idea which can help you in other areas of your life (not just learning English)
you can listen to the audio lessons when commuting or travelling, mp3 files are easy to keep on a phone or mp3 player
crazy mini stories which encourage you to speak and answer A. J.'s questions
no one is forcing you to speak – speak only when you feel like it; we are learning a lot by listening alone
every lesson has transcript so you can return to it and check the spelling of words used in the audio if you need
action vocabulary videos which will make you move, laugh and feel good 🙂
When you should join Power English course
I belive you should join the course if:
you want to become fluent English speaker
you want to gain confidence in speaking
you don't like studying grammar rules
you want to try something new 🙂
When you shouldn't join Power English course
Yes, I also think that in some cases you shouldn't join the course. So, don't join the course if:
you want to improve your writing only
you are not willing to dedicate your time to listen to the lessons
you are absolute beginer and you just started learning English
Final thoughts
This review is my honest recommendation of Power English course. I am a huge fan of A.J. Hoge since 2012 when I first discovered his teaching methods.
Of course, Power English is not the only way that has helped me to get my English where it is now. I have used other English resources and techniques too.
With all that said I consider the Power English course as a key turning point in my learning that has changed the overall approach I have used on my way of becoming a fluent English speaker.
The Power English lessons are not just about "listening to audio" afterall.
The lessons are about the right mindset and effective techniques.
A.J. Hoge and his Power English changed my thinking and has helped me to become confident and fluent English speaker.
There's always something new to learn and I am so happy and grateful for what these lessons have tought me. Now – thanks to English – I can help other learners like you and me. 🙂
Whether you decide to try out the Power English course for yourself as I did, or if you go other way – it is completely up to you. And I hope this review has helped you to decide. 🙂
Click here to find out more about the Power English lessons.
Alright. 🙂 If there's anything I haven't covered in this review or if you have any questions about the Power English course, feel free to ask me in the comment section below. I am happy to help you out.
And if you've been using Power English already, feel free to share your thoughts on it.
Thank you very much and Enjoy English! 🙂