Hey! I'm Ivan, a non-native English speaker from Slovakia.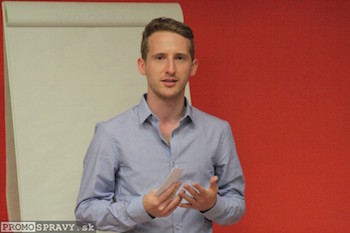 Similar to visitors of this website, I'm also an English learner who enjoys English. So much that I started blogging about it. 🙂
The following paragraphs share a little bit from my story.
My Story
Those who have known me for many years remember, that I used to struggle with English speaking. When I graduated from high school I realised that I already studied English for 12 long years! And after all these years of traditional education, I still couldn't speak proper English. I couldn't express myself clearly and was scared of making mistakes.
Well, I was unhappy. So many years of learning and seemingly no progress.
And – you know – as a young guy I wanted to travel and experience the adventures abroad. Which can be – of course – quite difficult if you can't speak English.
Then something unexpected happened.
During the second year of university I got an opportunity. I found a great organisation IAESTE that helps students to get international work experience. They had a website with the list of available internships. And there it was! I scanned the list of internship placements quickly with my eyes and then I saw it!
A 3-month long internship in England – for a web developer. Oh common! That's a great opportunity! I was so excited! Yeahhh!
But wait … – I realised quickly – They are not going to accept anyone who can't speak English, right?!
Plus, you have to write a motivation letter, send the CV and not to mention the interview in English. And of course, after all of this, they can still pick some other student…
Well, apart from the selection process, I had about 6 months until the internship would start. These 6 months became the deadline for me. I HAD TO speak English in 6 months (or less). That was it! There was no other option for me. I couldn't miss this great opportunity!
So I went on the internet and started searching. I started searching for the best English learning methods. I googled and tried everything that seemed reasonable.
Besides that, I built a plan and dedicated at least one hour per day for English learning.
The motivation was strong! If I wanted to get the internship, I had to speak!
I understood that when I already had spent 12 years of studying English and still couldn't speak, there was something wrong with the old methods I had used.
I had to change the approach I used for learning.
I told to myself – let's try something else. I decided to drop the old learning methods and started using learning techniques that were completely different from the traditional learning methods that are used in schools around the world.
And it worked!
To make the story short. I got the internship.
But the most important:
I finally spoke English and enjoyed it!
Well, everyone of us has different reasons and motives to become fluent and confident in English. I just wanted to tell you that even if you can't speak English yet, it doesn't mean you won't in several months or weeks!
Really!
The beginning of English the Smart Way blog
After struggling with English for many years and then realising which English learning techniques have worked for me, I thought to myself:
Wouldn't that be great if everyone could become a fluent English speaker?
And that was the time I decided to share with you everything I found out about English learning that really works.
I used my web development skills and built this resource website where English learners like you can come and get tips, tools, inspiration and of course – motivation.
Here's what I want for you:
the joy

of having a

wonderful conversations

in

English
the freedom

to choose your

desired job

or

business

…because the language is not your limit anymore

fun

and

happiness

that comes from making new

international

friends
the excitement

from your new

travelling

experiences

…when English is the skill you can rely on

the confidence to start talking to anyone
…that's the goal of this blog.
FREE ebook
In December 2014 I published the first ebook – English the Smart Way where I share my experience in English learning.
Let's join the thousands of readers and download the free ebook:
And finally, please read this carefully:
I don't consider myself an English learning guru and my techniques are not secret. I speak only from my personal experience and please don't feel like you owe me anything because of it. I try to provide you the most useful information I can so you don't have to spend your valuable time doing research and struggling.
Let's become confident and fluent in English together!
Thank you for taking the time to read this, and I hope to see you on the blog sometime soon!
Cheers!
Ivan