Hello my friend,
I am delighted and at the same time privileged to be able to share with you the knowledge I have accumulated over the years of learning English as a non-native speaker.
The guide English the Smart Way contains ideas, techniques, learning tips and resources I have found really useful, effective and have been using myself throughout my own learning process. The ebook is here for you completely free.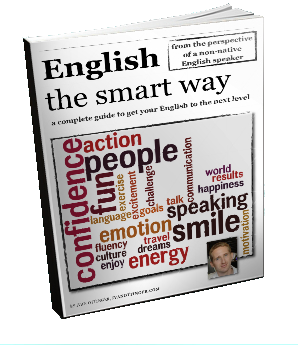 the guide will help you:
ignite your motivation to improve your English everyday
learn how to reach your goals
build your Action plan to get your English to the next level
choose the best resources to improve your English
discover 11 tips for your success in English
+ there's one Bonus section
The guide is full of simple and exciting exercises that will help you discover yourself.
Watch this short message from me
(please understand that this is my first video on youtube and I didn't know I wasn't looking directly to the camera and haven't realised I am shooting the video in the vertical orientation, sorry) 😀
Click the button below and get your copy:
Enjoy! I wish you all the best!
What others said about the ebook:
…your ebook is amazing and interesting. because there are many notes, motivation, and tips. That's a really good idea, you give questions and the questions make build motivation to reader. and the most I like from your ebook is "The 30 days challenge" wow… that's a great idea. — Vivi from Indonesia
…just wanna thank you for creating that great book. I thoroughly enjoyed reading it. Thank you — Eslam
Words from English the Smart Way members:
…I think those are wonderful ideas to improve my English, thank you very much! You are a wonderful person! Have a great day. — 冯振耀
…I really need this kind of valuable advice. Thank you so much for this. — Neeraj
English the Smart Way ebook in other languages: